---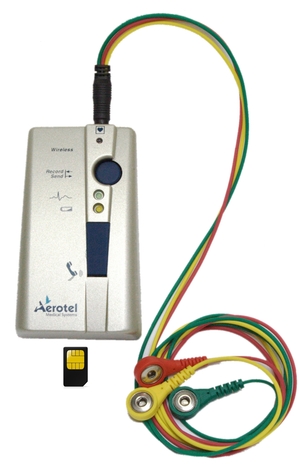 Aerotel to Present Personal Mini-sized ECG Monito r with an Incorporated 3G Cellular Module at WMC 2014
Aerotel will present, for the first time, a new high-resolution monitor, which enables the seamless transmission of patients' recorded ECGs to a call center or directly to the doctor's email.
Barcelona, Spain, February 19, 2014 – Aerotel Medical Systems, a leading global supplier of advanced remote monitoring solutions for tele-health and telecare, will showcase the world's smallest and most accurate hand-held 12 Lead ECG monitor at the GSMA Mobile World Congress.
The company will present the mini-sized monitor at WMC 2014, which will take place in Barcelona on February 24–27. The new ECG device will be presented together with Aerotel's other innovative telemedicine solutions at the Israeli Pavilion, Hall 5, Booth #5C81.
Aerotel will present the latest model of its HeartView ECG product line for the first time. The new HeartView™ P12/8 Mobile is a 12-lead ECG event recorder/transmitter for personal use, which has an incorporated 3G cellular module enabling the seamless transmission of a patient's recorded ECG to the call center or to the physician's email.
The HeartView P12/8 Mobile is a powerful ECG device with high-resolution 12-lead ECG recording technology which is specifically designed for easy patient use.
The device enables the transmission of comprehensive ECG data from any place at any time. The recorded ECG transmitted to a call center that has the HRS (Heartline Receiving Station) software for immediate diagnosis.
The HeartView devices allow:
• Diagnosis of cardiac symptoms
• Remote monitoring of chronic heart patients
• Recording and transmission of an ECG to a cardiac call center
• Cardiac analysis for clinical studies
"Aerotel's new ECG mobile solutions are geared towards improving patients' quality of life by enabling remote monitoring of chronic heart patients," said David Rubin, Aerotel's president and CEO. "MWC 2014 will allow us to showcase the most advanced ECG mobile solutions offered today."
Over the past 16 years, Aerotel has achieved a leading position as a developer of telemedicine and telecare devices. Aerotel's medical devices are used on a daily basis supporting millions of people in more than 20 countries.
---
About Mobile World Congress 2014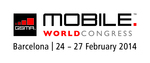 The Mobile World Congress 2014 will showcase the technologies, products and services that are shaping the future of the mobile industry, from network infrastructure to mobile handsets and devices to software and applications and much more.

Attendees to this year event will have the opportunity to experience first hand how mobile is revolutionising business across many industries and transforming everyday life for billions of people around the world.
The GSMA expects more than 72,000 attendees for Mobile World Congress 2014, which will be held 24-27 February 2014 at Fira Gran Via in Barcelona.
---
About Aerotel Medical Systems
Aerotel Medical Systems is a world-leading provider of cost-effective, high-quality and user-friendly medical diagnostic systems and devices for home care, eHealth and telemedicine, as well as telecare and personal safety.
For further information, please visit Aerotel Medical Systems' website at www.aerotel.com. To obtain a first-hand view of our exciting Personal-Health solutions, please visit our booth at the American Telemedicine Association meeting in Austin, TX on 5-7 May 2013, at booth 1517
Company contact:
David Rubin
President & CEO
Aerotel Medical Systems (1998) Ltd.
+972-3-5593222 Ext.110
This email address is being protected from spambots. You need JavaScript enabled to view it.
www.aerotel.com